Archive for May, 2009
After learning about so much during our journey at DW, it was awesome to put into place everything we had learned throughout the weekend. That afternoon, we worked with another photographer to capture a family and a couple.
I had the ultimate treat in capturing Matt and Laura. Married for several years, they ooze passion and beauty—and the sparks between them are beyond words. Since they're both in the photography and design industry, they had some fantastic wisdom to share after they had been on the other side of the lens, for which I'm terribly grateful.
I can't help but share all of my favorites from this session. And really, there wasn't a bad shot. They were so effortless in front of the camera—coupled with what we had learned about drawing out our subjects, there was a whole new level of intensity to the images. Don't you agree?
Christine and I also photographed this gorgeous family. Beautiful kids, a mom and dad who are head over heels for one another, and lots of laughter. What's not to love?
Thank you to our awesome models! You guys were incredible–thank you for sharing the journey with us.
A huge heartfelt thank you to everyone who organized, shared, participated, sweated over, and immersed themselves in making this workshop a success. There are so many lessons to be learned from what we discovered over a short period of time, and I can't wait until we can all meet again. You can read more at the GB Photographers blog (with an AWESOME slideshow of the weekend) and Me Ra Koh's blog.
It was great to get back to Cavallo Point on our third day of the Discovery Workshop. We spent time talking about the previous day's shoots, with all of its successes and challenges.
The first part of our day was spent in breakout sessions, from learning about visual texture to workflow management and building your brand. Since I have some of that covered (ahem), I decided that working on technical aspects of lighting and such would be useful.
We talked with Rick about visual texture and using the elements around you in making pictures. Of course having the beautiful porches of Cavallo Point were a perfect surrounding to work with. And the rain! I was sure we were in Seattle, not San Francisco.
Then Garrett Burdick, Brian Tausend and Jason worked with lighting and use of flash. Brian got his groove on while we worked with shutter lag. Check out that movement! He's got mad dancing skills.
(j/k, Brian…)
We also worked with natural light and filling light with flash. I love the moodiness of this shot of Jason. Such gorgeous eyes.
Watch tomorrow for two AMAZING shoots we did in the afternoon of our last day! You're going to love it!!
Our second day of the Discovery Workshop took us on the very winding Panoramic Highway, filled with heavy fog, to the charming community of Stinson Beach, Rick Chapman's stomping grounds.
We spent the morning around a warm fire at the community center, as the rain drizzled outside the huge windows. Rick shared with us the stories behind the beautiful portraits of athletes and celebrities, and his process to crafting breathtaking portraits and capturing the mystery of his subject. He's photographed people from Mohammed Ali to Justin Timberlake, and often, these people are sick of having another camera shoved in their face. But Rick's warmth and conversations (and maybe his awesome voice, yum) invites people to open up and share themselves. He takes time to get to know his subject before photographing them, and draws out their truest self based on that conversation.
Rick demonstrated his process by inviting local resident and chef Lesly Robinson to have her portrait made as we watched and learned. (Lesly is an amazing chef, and made our evening's dinner, which was incredible!) Lesly was admittedly nervous but willing to share her warm smile and love of cooking with us.
With nearly twenty-five photographers watching, Rick captured her royal presence and love of cooking. (Photos via GB Photographers)
And, with all of us watching, she opened herself up to us, sharing her laughter and free spirit. Isn't this image so fun, of all of us capturing her? (I'm in the green sweater, BTW)
With all this knowledge we had gained so far, Rick had arranged for 12 people from the community to be photographed that afternoon. This honestly struck fear into the hearts of myself and many others among our group. Photograph someone we had never met, at a location we had never seen? Let's talk about being pulled out of my comfort zone. But that's why I was here—to be challenged to discover new things. So, with the newfound confidence gained from our earlier sessions, we forged ahead.
Another photographer and I visited the home of a middle school instructor. She was a kind woman, with beautiful silver hair and made us a rich, warming cup of coffee. Her home and garden were engulfed with light, and it was apparent she spends so much time caring and tending for her home. Her son had given her a gorgeous Bird of Paradise plant, and I had never seen it other than as a cut flower. So gorgeous:
We walked around her home, and then ventured down to the beach and took in the cool, salty air. We talked about how she loves to sit and watch the seals and seagulls. She loved breathing in the ocean breeze. While I was making her picture, I kept thinking back to the previous day's statement: I am filled with life-giving breath on the journey. It was like a gift to capture images that so closely reflected my discoveries from day one. And in those moments, she too felt the same way. It was pretty powerful. I hope to share the images at a later time.
We strolled the beach a bit more and captured more beautiful moments. After our amazing dinner by Lesly, we had great discussions by the fire about life, photography, and what fuels us.
As the sun set, we ventured down to the beach as a group and shared stories with Rick about life in the small beach community. And we took time to let ourselves breathe, do cartwheels in the sand, laugh and run.
Our first day at the Discovery Workshop was spent with heavy introspection, focusing on knowing who we were as artists, to create the best possible presentation of ourselves and interpreting that into photography.
Rick Chapman asked the group to bring a self portrait to the workshop. It didn't necessarily need to be an image of you, but a likeness or representation of who you are and where you are at this moment in time.
I recently traveled to San Francisco for several days to attend a photography workshop with four photographers whose work I deeply admire and have been dying to learn more from. It was a birthday gift to myself–part of a way to more clearly define my path as a photographer, connect and learn from the most respected names in the industry.
Rick Chapman, Garrett Burdick, Me Ra Koh and Brian Tausend hosted our group of just over 20 women at the breathtaking Cavallo Point at the base of the Golden Gate Bridge. The property is located within the site of historic Fort Baker, a former army post in the Marin Headlands – now maintained by the National Park Service. Built between 1902 and 1910, Fort Baker served to protect the valuable San Francisco Bay, with beautiful Colonial Revival style quarters, with stocky symmetrical buildings and stunning wraparound porches. Its legacy has been revived and restored to its original glory, and couldn't have made for a more beautiful setting for which to experience our journey as photographers and artists.
I took some time on Thursday afternoon before the workshop started to clear my head and explore the trails and waterfront around the property. The trails were beautiful. Colorful wildflowers, places to stop and smell the salty air, the sound of the boats passing through the bay. A small fishing pier and marina were great places to see seagulls while people netted for small crabs.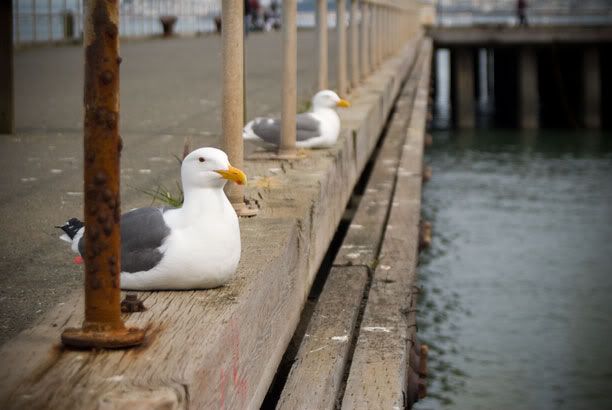 And then there were spectacular views of the Golden Gate Bridge. A steady hum of traffic flowed overhead.
From one of the trail stops, Alcatraz and the Bay Bridge were visible too.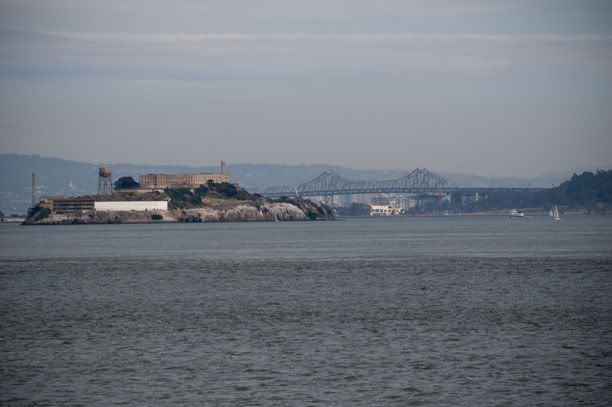 Tomorrow, I'll share about our first day at the workshop.
One last history lesson and then I swear we'll get to more interesting things. But I feel it's important to know where I'm coming from to fully understand where I'm going.
Cathy Mores Photography was born out of a love for creating beautiful images. For years, and years, and years, I photographed still subjects. Spent hours (and days) in the darkroom smelling of developer and making magic from light captured on film. After our nearly three-year-old son was born, I discovered there's so much more emotion to capture. Now I use the process not only as a historical medium—because in fifty years, we'll all want to remember those pudgy cheeks and gap-toothed smile—but to use the lens to tell the story of how young lives change, grow, and awaken to the world around them.
There are lots of photographers out there. So many who ooze perfection in a studio setting where all the elements are controlled. But real life happens in between; where kids are running around, exploring, discovering, being themselves, wearing halloween costumes on hot summer days. And those are the moments we remember most. But it's not just children, babies and families that I photograph—there are beautiful stories to share among milestone moments, too—the transition from high school to college, or the journey of becoming an engaged couple to marriage.
And in keeping with the P39 philosophy of using the details to tell the story, I often use details in my portraiture to piece together the story of the people I photograph—the places and things that they enjoy most, games they play together, hobbies that enrich their lives. Knowing who a person is, as much as what they look like, freezes a moment in time that is forever remembered and treasured.
I've had many people ask about how and why Parallel 39 came to be. I know some firms aren't always willing to divulge how their name evolved, but I feel like that's part of what makes the studio unique.
I've lived a lot of places. Too many to count. (And nope, not an Army brat, just a regular brat.
Ha!) And all of those places have all been above the 39th parallel of latitude. And in the time living in some of those places, I had the opportunity to work for incredible companies who shaped my vision for what I wanted my design studio to stand and achieve for.
But why not a company name that incorporates my personal name? For personal reasons, of course—but also because Parallel 39 also represents the meeting point of where highly-evolved ideas meet with marketing strategy. I believe great design can  exist, but if it's not successful for the bottom line, then it's just a pretty logo or a nice paper texture. It's the meaning behind the message that drives consumers to make the decisions we are influencing them to make.